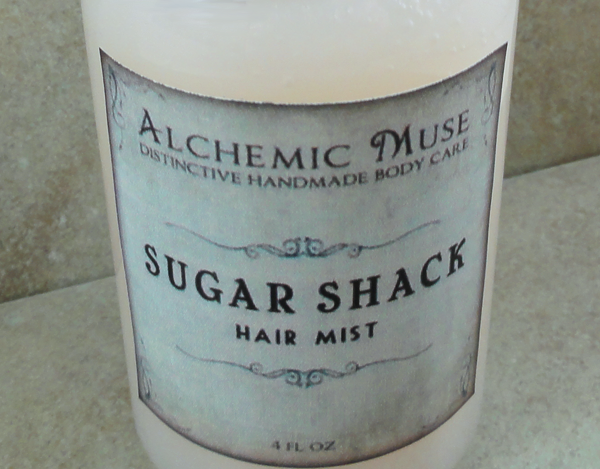 Sugar Shack Hair Mist
Scent:
This delicious confection will make you absolutely edible! Freshly baked sugar cookies with crushed macadamia nuts topped with buttered toffee morsels and drizzled with white chocolate.
Directions:

Wash and towel dry hair. While hair is damp, spray on small amounts at a time, let sit for a few seconds, and comb through. Use a small amount on dry hair as a setting lotion or to tame fly-aways and smooth frizz.

Ingredients:

Ingredients: Water, Horsetail Grass Extract, Sage Leaf Extract, Nettle Leaf Extract, Rosemary Leaf Extract, Chamomile Flower Extract, Lavender Flower Extract, Cetearyl Alcohol, PEG 40 Castor Oil, Stearalkonium Chloride, Hydrolyzed Baobab Seed Protein, Panthenol (Pro-Vitamin B5), Cetrimonium Chloride, Fragrance, Phenoxyethanol, Caprylyl Glycol, Sorbic Acid